Bidder Reviews for Provincetown Art Association and Museum

(

9

)
1-9 of 9 Reviews
Great experience
This was the first time I participated in any auction, and the process went very smoothly, especially thanks to the responsiveness of PAAM staff as well as Liveauctioneers. Kudos and thanks to them.


Very Professional
PAAM has done a great job turning their annual auction into an online event. It's now easier than ever to bid. Great overall experience.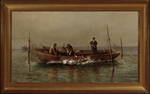 This was a great experience!
This was one of the best purchasing experiences I have had. This team has everything together and understands that buyers do not want to chase down shipping after making a purchase. They make purchasing easy.-Highly recommend this seller.

Ease and fun
This was the first time PAAM held this auction on line and it was wonderful. Exciting to see the bids from on the pieces. They handled pick up really well and I know from other experiences that shipping would have been easy as well. I hope this auction is online next year in case I can't make it to town. It's a great team at PAAM.

Well done PAAM.
Overall I thought the auction went well and was very well run. One unfortunate criticism. On my cell phone I didn't notice the small button I was supposed to press if I wanted to bid so I lost the Knaths which I would have bid more on above the bid I had placed before the auction. You should give a better more conspicuous instruction about that.